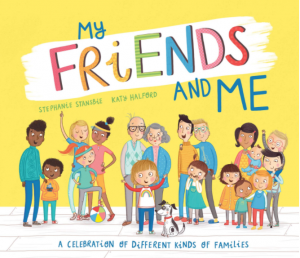 Ivy and I are big fans of this colourful picture book which celebrates different kinds of families and the bond between parent and child.
Jamie lives with his grandparents and he thinks they are the coolest grown-ups he knows. He has lots of friends and he loves the fact that each of them has a different family set up, because it makes playing with them so interesting.
Kate has two dads who take her for brunch. Harry has one mum who is ace at baking cakes and pretending to be a pirate. Olivia has two mums and three siblings. Lily's parents are separated so she has two houses and even two bedrooms!
We see families who live in terraces, mansions, caravans and boats. Foster parents are also featured and one child has a trans parent – a mum who everyone thought was a man but was actually a woman all along.
The text is warm and inclusive and the fabulous illustrations feature wonderfully diverse characters. It's written from the point of view of a child so there is no judgement or pre-conceptions about any of the families included. The little boy sees the pure truth – that each of these families is full of love.
Our favourite page is right at the end, where we see the one thing which all of the parents have in common. I won't spoil it, but it involves a disco ball and some seriously questionable moves!
Buy from Bookshop.org and support independent bookshops: https://uk.bookshop.org/a/155/9781788817318
Buy from Amazon UK: https://amzn.to/2Q28N4R
Note these are affiliate links and Ivy's Library will receive a small commission if you choose to purchase through them.
Disclosure: The publisher provided is with a copy of this book in exchange for an honest review.