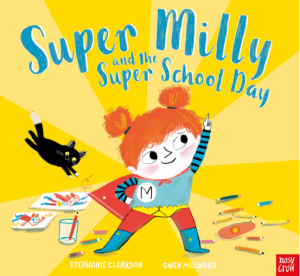 Milly is very excited about going to school because it's Superhero Day. She has fashioned a costume out of tin foil and a tea towel but she's a little bit sad that she doesn't  have any REAL super powers. Or does she?
In the classroom Super Milly spots that William is sad because his dad forgot it was a dress up day. She hands him her superhero badge and tells him he can be Wonder William. She cheers up Fantastic Flora with some jokes. She settles a dispute between Amazing Archie and Spider Sid and she comes to Incredible Iqbal's aid when his pet spider escapes during Show and Tell.
As the day progresses Milly realises that you don't need x-ray vision to be a superhero. She is brave. She is kind. She is funny and clever. She is Super Milly!
We love this fantastic story which teaches kids about the power of kindness. Ivy laughed all the way through and afterwards we talked about our own super powers. I asked her to name her strengths and she came up with three which were spot on!
I highly recommend this book if your little one is about to start school. It paints the classroom as a really fun environment and gives your child the opportunity to think about the 'super powers' they can bring along on their own first day.
Buy it now: https://amzn.to/3iSJWwR
Disclosure: The publisher provided us with a copy of this book in exchange for an honest review.