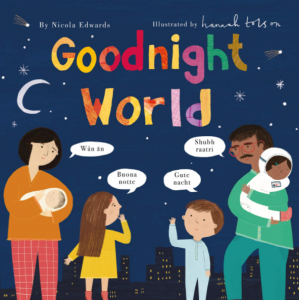 What's your bedtime ritual with your child? Our routine is generally bathtime, pyjamas, milk, teeth, books and then bed although this sometimes gets shaken up a little if we're away or one of us is ill. You may do something similar but equally your evenings may look very different to ours. 'Goodnight World' by Nicola Edwards and Hannah Tolson follows a group of children from around the world as they come to the end of their day.
The gentle rhyme guides us through the different things a child may do before going to sleep. We see a baby being rocked, a boy having a  bath and a group of children jostling around a sink brushing their teeth. We see siblings tidying up toys and snuggling up for a story, a child saying goodnight to an absent loved one on the phone and even a group in a tent, settling down to watch the stars.
As well as giving us a peek in to bedtime rituals the book teaches your child how to say goodnight in multiple languages. Mandarin, Russian, Italian, Finnish, Swahili, Spanish, Arabic, Hindi, German, French and Korean are all included. Phonetic breakdowns are included so you can make sure your pronunciation is correct and I love the fact that the words are also written in their natural form for languages which use a different alphabetic system to English.
The tender illustrations are inclusive and feature families of different races. We also spotted a child in a wheelchair and a child in glasses.
Buy from Bookshop.org and support independent bookshops: https://uk.bookshop.org/a/155/9781838910365
Buy from Amazon UK: https://amzn.to/3gqiEfu
Note these are affiliate links and Ivy's Library will receive a small commission if you choose to purchase through them.
Disclosure: The publisher provided us with a copy of this book in exchange for an honest review.