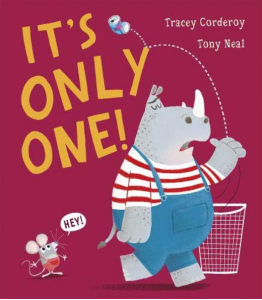 Sunnyville is a beautiful place to live. The residents are a friendly bunch and everything looks pristine – until one day Rhino drops a sweet wrapper on the floor and everything starts to spiral out of control.
"What? says Rhino "It's only one…" – but of course it's never as simple as that. Soon everyone in town thinks it's ok to drop litter and the streets start to pile up with rubbish.
The mess makes Giraffe very unhappy so he picks a flower from the local park to brighten up his home. "What? says Giraffe "It's only one… – but the town's flower beds are quickly emptied as everyone picks 'just one' flower of their own.
Things go from bad to worse when Pigeon decides to play music in the park to cheer himself up. Yes – you've guessed it. Just one song!
Now Sunnyville is unrecognisable. Banana peel and plastic bottles litter the streets, the flora and fauna have been destroyed and a cacophony of sound fills the air. The residents are grumpy, and rightly so.
But then a tiny mouse has an idea and plants one small flower in the ground. This small gesture propels the town in to action. They realise that if they all plant one flower, all pick up one piece of rubbish and all agree to be respectful to their neighbours then their beautiful Sunnyville can be restored. In fact it could be even more beautiful than before!
This is such a simple yet powerful story. We have always taught Ivy to be respectful of public spaces but I could almost see the lightbulb go off in her head as we read this and she grasped the wider impact that our actions have.
It teaches children how one small action can have a ripple effect in society – be it positive or negative – so choosing to take care of our surroundings results in a better world for us all.
Buy from Bookshop.org and support independent bookshops: https://uk.bookshop.org/a/155/9781788816816
Buy from Amazon UK: https://amzn.to/32BmQnZ
Note these are affiliate links and Ivy's Library will receive a small commission if you choose to purchase through them.
Disclosure: The publisher provided us with a copy of this book in exchange for an honest review.