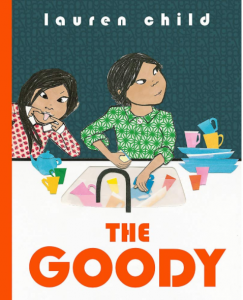 I am a firm believer that you shouldn't label children based on their behaviour so the first time I read this book I practically punched the air with joy. Lauren Child totally gets it! A positive label can put pressure on a child to conform and a negative label can affect their self worth or give them something to hide behind when faced with a challenge. No one is ever completely good/bad, or quiet/loud or any other combination of opposites we regularly see used to categorise people.
Chirton is a good boy. He eats broccoli, goes to bed on time and cleans the rabbit's cage without making a fuss. He's so good that his parents have even given him a badge with 'Goody' written on it. Chirton tells us: "If people have decided you are good, do not disappoint them by being bad."
Life is different for his sister Myrtle though as she is a bad child. She won't eat broccoli, doesn't go to bed on time and never cleans the rabbit's cage. Their parents don't even try to make her behave anymore as it's just too difficult. Myrtle tells us: "If people have decided you are bad, do not disappoint them by being good."
But then one night Chirton wakes up coughing and heads downstairs for a glass of water. There he discovers his sister sitting up late with the babysitter, watching tv and eating chocolate. His mind starts to whirr. Why does he spend so much time being good when being bad looks like so much more fun?
Chirton decides to make a stand. He stops doing all the things that make him 'Good' and in the process Myrtle realises that she isn't entirely 'Bad'. Together they realise that being kind and being respectful of others is more important – but can they convince their parents to let them step outside of their expected roles?
I LOVE this book and it really got Ivy thinking about the different aspects of her character. It shows children that they should be allowed the freedom to be themselves and be appreciated for a whole range of behaviours, not just 'goodness'.
Buy from Bookshop.org and support independent bookshops: https://uk.bookshop.org/a/155/9781408347584
Buy from Amazon UK: https://amzn.to/32x8vsG
Note these are affiliate links and Ivy's Library will receive a small commission if you choose to purchase through them.
Disclosure: The publisher provided us with a copy of this book in exchange for an honest review.