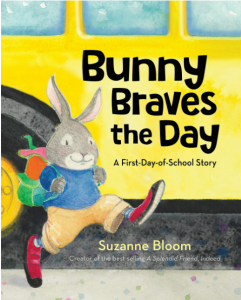 It's the morning of Bunny's first day at school and he has a long list of reasons why he definitely shouldn't go. He's too tired. He can't find his underpants. His socks are too short. He thinks he might be coming down with a cold and it feels like there's a giant frog jumping up and down in his tummy.
Fortunately his older sister is on hand to calm his nerves. As he rattles off excuses she talks about her own experience of starting school and assuages his fears. It's fine that he doesn't know how to tie his shoes because he can wear ones without laces. It's ok that he doesn't know how to read because the teacher will be there to help him learn. Although meeting lots of new children might sound scary he will soon make friends just like she did.
As Bunny starts to calm down his sister highlights all the things he's really good at – like drawing and dancing, being curious and making people smile. These will all be great skills for school!
Finally Bunny feels ready to leave home, but will he be brave enough to make it through the day?
Filled with gentle humour and heartwarming illustrations, this lovely story gives you and your child the opportunity to talk about any worries they may have about starting school. Ivy found Bunny's long list of excuses really funny but admitted that she shared some of his concerns. This opened up a great conversation about what it's like to feel nervous, and she even asked me about my memories of starting school (almost 38 years ago – eek!).
Buy it now: https://amzn.to/3hJsWc7
Disclosure: The publisher provided us with a copy of this book in exchange for an honest review.