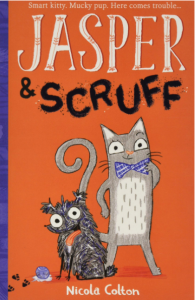 It's time for another chapter book review and this one had Ivy and I in fits of giggles!
Jasper likes to think of himself as cut above your average cat. He lives in a fancy apartment surrounded by books and fine art and his taste in bow ties is impeccable. Jasper has everything he needs except the 'right' kind of friends. He dreams of joining an elite group of felines called 'The Sophisticats' because members are invited to all the best parties and dine at the nicest restaurants in town.
He carefully crafts a letter inviting a select group of The Sophisticats to his home for dinner and is over the moon when they accept – but things don't quite go to plan…
When Jasper heads out to buy the ingredients for the elaborate three course meal he has planned, he encounters a bedraggled stray puppy called Scruff who just won't leave him alone. The clever cat tries to distract him with games of fetch and hide and seek but the two seem destined to spend the evening together – the very evening that The Sophisticats will be assessing him for membership.
Needless to say, mayhem ensues and having Scruff in his home at the same time as the pampered pussy cats pushes Jasper over the edge. Drinks are spilled, carpets are dirtied, meals are sent back to the kitchen and a cake gets covered in dog slobber.
But as the evening wears on Jasper starts to view his guests a little differently. Who would he actually prefer as a friend – the pretentious and rather rude Sophisticats or the mischievous and loyal Scruff?
If you're looking for something to bridge the gap between picture books and early chapter books then I would highly recommend this one. The writing is crisp and really very funny, plus there are colour illustrations on every page.
Ivy loved the central characters – particularly the loveable Scruff – and afterwards we had a great chat about friendship and how the best kinds of friends are the ones you can truly be yourself with.
This is the first book in a fabulous series about these unlikely friends. It's perfect for reading aloud to children aged 4+ and also for readers aged 6+ to explore on their own.
Buy it now: https://amzn.to/2R5rfKz