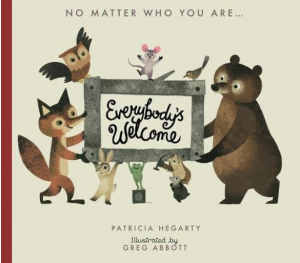 In the middle of the forest stands a tiny little Mouse, daydreaming of her very first home. Her thoughts are disturbed by a Frog who explains that his pond has dried up so he has no place to go. Mouse takes this to be a sign and she suggests that they build a house together.
As construction begins, more animals appear and each has a sad tale to tell. There are rabbits who have been chased from their home by an eagle, birds who have had their tree chopped down and a big brown bear who feels isolated because his size scares people.
Mouse comforts each displaced creature in turn and invites them to be a part of her project. Soon they are all working together to build the perfect home, where they can all reside safely together.
"Our home will be so happy – we'll fill it up with song, And everybody in it will feel that they belong."
Ivy and I both love this beautiful board book about community, friendship and teamwork. It is filled with warmth and compassion and has a very inclusive feel. The slightly vintage illustrations are stunning and there are some really well thought out cut out sections which add depth to the story.
Buy from Bookshop.org and support independent bookshops: https://uk.bookshop.org/a/155/9781848577459
Buy from Amazon UK: https://amzn.to/2GzWTOq
Note these are affiliate links and Ivy's Library will receive a small commission if you choose to purchase through them.
Disclosure: The publisher provided us with a copy of this book in exchange for an honest review.