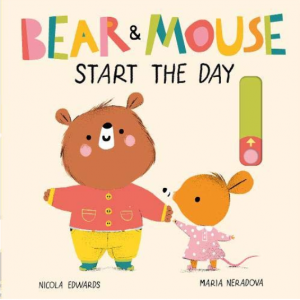 This adorable board book follows best friends Bear and Mouse as they start their day. We follow along as they wake up, make plans, cook breakfast, get dressed and head out for some fun at the park.
Every page features a slider or flaps for little hands to play with. Your child will be able to help Mouse do his morning stretch, make toast pop out of a toaster, do up Bear's coat and help the friends go up and down on a little red see-saw.
There are also lots of questions to encourage children to think about the structure of their own morning. What do they like for breakfast? Can they dress themselves? What are their favourite activities?
Maria Neradova's illustrations are super cute and Ivy loves to spot all the little details in the different rooms of the house and in the town. She particularly likes the messy socks in the bedroom, the tiny cuckoo clock on the wall in the hallway and the little worm poking his head out of the grass in the park!
Buy from Bookshop.org and support independent bookshops: https://uk.bookshop.org/a/155/9781838910402
Buy from Amazon UK: https://amzn.to/3851dkb
Note these are affiliate links and Ivys Library receives a small commission if you choose to purchase through them.
Disclosure: The publisher provided us with a copy of this book in exchange for an honest review.