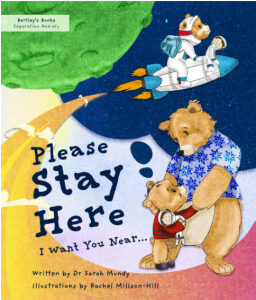 Did your child start school or nursery this September? If so, I'd love to hear how they're getting on. We've been experiencing a little bit of separation anxiety here over the last few weeks and have found this particular book really helpful.
Written by a Consultant Clinical Psychologist, the story follows young Bartley Bear as he navigates some big emotions. He's feeling a little bit apprehensive about going to school and he'd really rather stay at home with Mum. Poor Bartley makes excuses when they try to leave the house, pulls back when he reaches the classroom door and really wants Mum to stay and play instead of go to work.  However his teacher and friends rally around him and soon he is having fun making space rockets and riding around the playground on a shiny yellow bike. Mum is back before he even has a chance to miss her and he learns that he really can be ok without her by his side.
Throughout the book there are little flaps to lift and hiding underneath is a Squirrel called Nudge. Nudge makes clever observations about how Bartley might be feeling and asks your child questions which encourage them to explore their own emotions and experiences.
This is a very supportive story and it's an engaging read. Ivy really empathised with Bartley the first time we read it and it has sparked lots of discussion around a subject which can be quite tricky to navigate.
The book also contains  parental notes on how to read the story with your child as well as some very useful tips on how to handle separation anxiety.
'Please Stay Here – I Want You Near' is part of a series which is designed to help children make sense of everyday challenges. Topics include tricky behaviour, bedtime routines, healthy eating, toilet training and the arrival of a new sibling. The author has also created a Parenting Handbook which explains the psychological theories behind the books and offers advice om how to support your child.
You can find out more about the author, the series and the handbook at www.parentingthroughstories.com
Buy from Amazon UK: https://amzn.to/2TWUJvn
Disclosure: The author provided me with a copy of this book in exchange for an honest review.