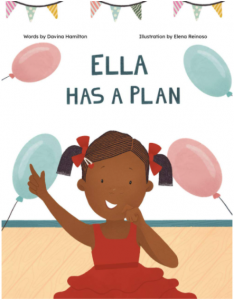 It's the day of the big family party and everyone at Ella's house is busy getting ready. Kind-hearted Ella can't wait for her relatives to arrive but she's also a little bit worried. Two of her cousins, Taye and Jade, have a habit of arguing and bickering and she's concerned that this might ruin the party for everyone else.
Mum tells her to go and chat to Great Grandad Frank who apparently has a great story about how he once tricked two of his children into playing nicely together. Ella speeds off to find him, but sure enough, a fight breaks out before he gets the chance to share his wisdom.
As Ella steps between Taye and Jade she realises that she needs a plan. How can she get the two cousins to understand that they are more alike than they realise, and that arguments are not the answer?
Written in rhyme, this is a really engaging story which celebrates the importance of kindness and love. As we watch little Ella cleverly diffuse the situation we learn that no one is too small to make a difference and that shouting and name-calling is never very helpful.
The images are bright and joyful, depicting multiple generations of a black family partying and having fun. Ivy and I love all of the tiny cultural details you can spot in the illustrations, particularly the spread of party food which she had lots of questions about!
Although this is a picture book it's designed for a slightly older audience. I would say it's great for children aged 4+ who are ready to listen to longer stories or for those aged 6+ who can read independently but aren't quite confident enough for chapter books.
Buy from Bookshop.org and support independent bookshops: https://uk.bookshop.org/a/155/9780995700574
Buy from Amazon UK: https://amzn.to/2Ik6o5h
Note these are affiliate links and Ivys Library receives a small commission if you choose to purchase through them.
Disclosure: The author provided us with a copy of this book in exchange for an honest review.