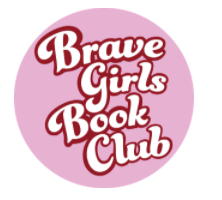 Do you subscribe to any book boxes for your child? We get a monthly 'Koala Crate' craft/innovation box from KiwiCo but we don't have any book subscriptions so I have been doing some research in to what is available here in the UK.
I have followed Books that Matter (a feminist book box for grown ups) on Instagram for some time so I was very happy when they offered to send me one of their brand new boxes for kids – The Brave Girls Book Club!
The box is aimed at middle grade readers (age 7-12) so it's currently a bit old for Ivy but the contents were so lovely that I wanted to share it with you anyway! I'm sure that many of you will have older children who would really benefit from this box.
The subscription service is designed to empower young girls through female-led fiction – and they definitely deliver! Our sample box contained a paperback novel, a selection of 'Brave Girls Book Club' pin badges, some sweets, a bookmark, a little 'squishy' and an activity book filled with puzzles, facts and pictures to colour in.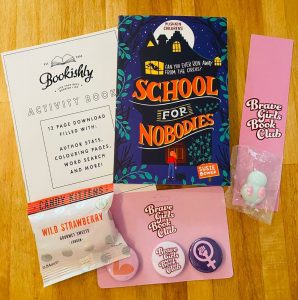 The novel we received was 'School for Nobodies' by Susie Bower. I planned to squirrel it away for when Ivy is older but was so intrigued by the premise that I ended up reading it myself! The 10 yr old protagonist is an orphan called Flynn who has no idea who she really is  – but one day she receives a note which changes the course of her whole life. It's a fabulously fun story about misfits, magic and why 'fitting in' is overrated.
The book boxes have been so popular that November has already sold out but their festive-themed December boxes are now available to order. You can purchase an individual box or sign up for a rolling monthly subscription on their website: https://www.booksthatmatter.co.uk/brave-girls-book-club/
Note of course that this was a sample box so you wouldn't receive these exact items. The books and products change every month.
If you choose to subscribe then let me know what you think. I will definitely be signing up when Ivy is a few years older!
Disclosure: The lovely folk over at the Brave Girls Book Club provided us with a sample box in exchange for an honest review.