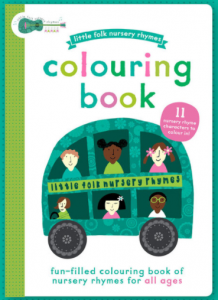 It's World Nursery Rhymes Week so this evening i'm sharing something slightly different –  a fabulous colouring book which we recently bought from the lovely Cat Bateman who runs Little Folk Nursery Rhymes.
If you have a child under 5 and you haven't yet discovered Cat then you are most definitely missing out! Armed with her guitar and an amazing repertoire of rhymes she is a fantastic entertainer and kids adore her. She runs music classes in South London but she can be enjoyed by everyone as she has an album and a fabulous YouTube channel – plus she does online parties!
This gorgeous colouring book features characters from 11 popular nursery rhymes, all beautifully drawn by artist and jewellery designer Michelle Poultney. The pictures are adorable and it's printed on thick, high-quality paper so there's no seepage through the pages if your child is a bit heavy-handed with their felt tip pens (something which is a bugbear of mine with most colouring books!). The pages also have perforated edges so you can neatly extract your child's artwork without having to rip or cut.
If you're looking for christmas presents and also want to support a small business then this is a fab option.  Ivy loves it and has coloured in every page. Her favourites are the 'Dingle Dangle Scarecrow' and the wiggly 'Worm at the Bottom of my Garden'!
You can purchase this book (and other nursery rhyme-related goodies directly from Cat's website here: http://littlefolknurseryrhymes.com/shop-1/