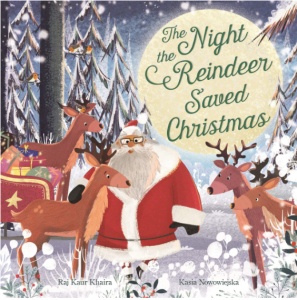 Yesterday I dug out all our Christmas books and added them to the towering pile of new titles sitting on my desk. We have so many lovely ones but as I flicked through them one thing was immediately obvious – an almost total lack of diversity. It seems that white boys have a monopoly on saving Christmas, white girls are all about the gifts, and black and brown people barely feature at all.
So I'm kicking off my Christmas books with this little gem which we have only recently discovered. It features an Indian Santa and a Black Mrs Claus and the story highlights the fact that the reindeer are all female!
It's December 23rd and Mr Claus is 100% prepared for Christmas. Hooray! But naturally, this doesn't last long and his peace is shattered when a fault is discovered with the rockets on his sleigh. With no way to deliver the presents it looks like Christmas will have to be cancelled!
Fortunately, Mrs Claus comes up with a clever plan. There are so many animals living nearby – maybe they could enlist their help? Word spreads and soon the creatures of the North Pole are auditioning to be part of Christmas. The Polar Bears display their strength, the Narwhals show off their speed, the Kittiwakes put on an aerial display and the Arctic Foxes prove they are masters of disguise. But Mr Claus needs a creature which has ALL of these special skills.
As the judging panel starts to despair, Mr Claus looks up to the sky and sees two magical creatures fly through the air. Could these be the animals which will pull his sleigh? He follows their trail and discovers they are reindeer. They are keen to help but the leader explains that male reindeer lose their antlers in early December and without their magic they can't fly. Mr Claus looks to the females of the herd – are they up for the challenge and can they help him save Christmas?
I highly recommend this one! Ivy loves a bit of mild peril so it really appealed to her and she was fascinated to learn about the female reindeer. There's also a great section at the back with facts about all of the animals which feature in the story.
Buy from Bookshop.org and support independent bookshops: https://uk.bookshop.org/a/155/9781787417823
Buy from Amazon UK: https://amzn.to/3fje43Z
Disclosure: The Pink Ladoo Project provided us with a copy of this book in exchange for an honest review.