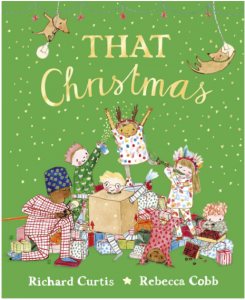 In a little village on the East Coast of England live five families whose lives are inextricably linked. Their children have known each other since birth and they share in each others joys and sorrows. They take group holidays in the summer and every winter they celebrate Christmas together in a big barn.
The children love their Christmas traditions. They open presents, eat turkey, go for a walk, visit the neighbours and watch Christmas TV. It's the same every year. Well, it was until THAT Christmas.
THAT Christmas an unlikely turn of events resulted in the children being left home alone, and naturally mayhen ensued!
We watch as they replicate all of their traditions in their own child-like way. Presents are ripped open and swapped, hotdogs and cakes are consumed under the dining room table, the dirty dishes are sprayed with a hose in the garden and their visit to the neighbours turns in to a raucous dance party in their pyjamas!
They have a truly wonderful day but as night falls they discover that the true joy of Christmas is about showing kindness and being with the people you love.
Ivy and I adore this one. It's great fun but it's also filled with warmth and hope. As always, Rebecca Cobb's illustrations are stunning and the love between the children and their families really shines through on every page.
I particularly like that the family groups aren't defined at any point. The mix of parents is diverse, showing different skin colours and ages and their closeness means it's not clear who belongs to whom. This gives the reader the freedom to see their own situation reflected on the page.
It's worth noting that the traditional christmas story of Baby Jesus does feature in the plot, so if this doesn't reflect your own belief system then it may not be for you. We are a non-religious family but I used this as an opportunity to talk to Ivy about Christian beliefs.
We have also had a lot of fun talking about what Ivy would do if she was in charge of Christmas which has given me some interesting insight in to ways we could tweak our own day. What do you think your child would choose to do differently?
Buy from Bookshop.org and support independent bookshops: https://uk.bookshop.org/a/155/9780241393604
Buy from Amazon UK: https://amzn.to/36Yvsas
Note these are affiliate links and Ivy's Library receives a small commission if you choose to purchase through them.