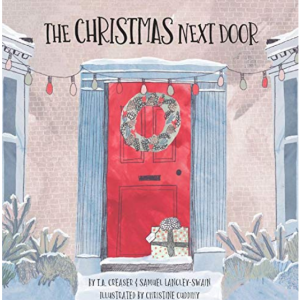 The majority of Christmas books focus solely on the good things about the day – family, food, presents – but as parents we know it can actually be quite stressful. There's so much to think about and for many people Christmas can be tinged with sadness because of an empty chair at the table or the financial strain. 2020 has been awful in so many ways so these issues will no doubt be exacerbated this year.
This is why i'm glad we discovered 'The Christmas Next Door'. It celebrates the joy of the festive season whilst acknowledging that sometimes things don't quite go to plan!
When Grandad arrives to spend Christmas with his family everyone is very excited, but he has a few challenges to overcome before the big day arrives. Autistic Lily is anxious about being in the school play, Max is stressed about visiting Santa's Grotto because he thinks he might be on the naughty list and Mum and Dad are running around trying to get everything prepared.
Grandad has his own worries as this will be his first Christmas without Granny, but he is happy to help and soon finds himself caught up in the whirlwind of family life.
The big day arrives. Presents are opened, the oven breaks down and nerves are frayed but after lunch Grandad has a very special gift to share. As he pops in a DVD and the children see their Granny's face appear on the TV, the whole family comes together and discovers that Christmas is about love and kindness and not material things.
This is a really refreshing story which covers some difficult themes in a gentle and heartwarming way. It touches on loss, disappointment, and autism whilst showing that Christmas doesn't have to be 'perfect' to be special. It encourages empathy and allows children in similar circumstances to see themselves reflected in a Christmas story.
The illustrations are beautifully detailed and feature a multicultural family. I love how the faces capture so many familiar emotions and I applaud the depiction of the tired parents walking do the stairs at the crack of dawn on Christmas day!
Buy from Bookshop.org and support independent bookshops: https://uk.bookshop.org/a/155/9781999762865
Buy from Amazon UK: https://amzn.to/2KIATmB
Note these are affiliate links and Ivy's Library receives a small commission if you choose to purchase through them.