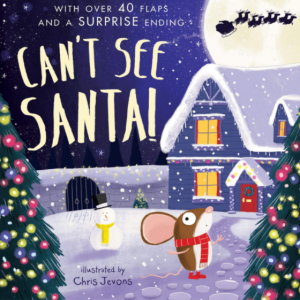 It's Christmas Eve and little Mouse has finished all of his preparations for the big day. Everything is ready for Santa but there's just one problem – Mouse can't find him anywhere!
With over 40 flaps to lift and explore, this is the perfect book for busy toddlers. On each double page they are invited to help Mouse try and locate Santa, his reindeer and a selection of gifts.
They can peek under the tree, through windows, under tables and behind doors. They will find spiders hiding underneath plates, frogs in the fruit bowl and hamsters nibbling on cheese –  but they definitely won't find Santa and his team.
Why? Because Santa doesn't come until you're asleep of course! On the final page they can help settle the animals in to bed, just in time to open the very last flap for a big sparkly surprise…
Ivy and I have had lots of fun with this lovely board book. The illustrations are adorable and the sheer volume of flaps will keep your child entertained for ages. We love all of the little details and surprises which are dotted throughout and Ivy particularly likes the garden page where she discovered a fox hiding in a bucket throwing snowballs!
Buy from Bookshop.org and support independent bookshops: https://uk.bookshop.org/a/155/9781912756797
Buy from Amazon UK: https://amzn.to/3lCUNfv
Note these are affiliate links and Ivy's Library will receive a small commission if you choose to purchase through them.
Disclosure: The publisher provided us with a copy of this book in exchange for an honest review.