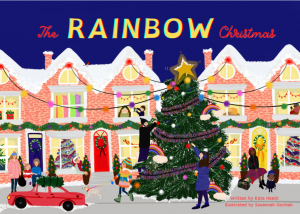 After the year we've had, Christmas 2020 was always going to be a bit different. So many of us have had to say goodbye to friends and family, thousands of jobs have been lost and we all have big decisions to make about whether we should risk seeing the people we love on Christmas Day.
Amongst all of the mayhem, this tiny self-published book is a little beacon of joy. It's just 10 pages long (and more of a pamphlet than a book) but it sums up the current situation perfectly.
The story shows a cross-section of society coming together to try and make Christmas special for those in need. Mince pies are baked, extra presents are bought and children make cards. People shop locally and businesses rally around to make sure no one goes hungry and no one is lonely. Food banks are filled by those who are able to do so. We see people coming together whilst staying apart and the sense of community really shines through. Together the people create a beautiful rainbow Christmas but the message is clear – kindness is a gift which should be offered freely all year round.
Written, illustrated, edited and published by The Advent Bank in just 4 weeks, this teeny book has the ability to be very powerful indeed so I would encourage you to buy a copy. All proceeds from the book will go to charities who support vulnerable families, including Better Days, LivPAC, Action With Young Carers, The Isabella Trust and Addvanced Solutions.
Copies are currently just £3.00 and you can buy them from The Advent Bank here: https://www.theadventbank.com/shop/p/do-chua-s95yl
They also offer the option for you to donate a copy to a child being supported by one of the above charities.
Disclosure: The Advent Bank sent me a copy of this book in exchange for an honest review. As it's a charity endeavour I have chosen to donate 4 copies of the book via their website to say thank you for ours.