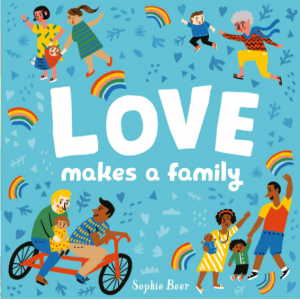 Families come in all shapes and sizes and this gorgeous board book celebrates the ones which we often don't see in mainstream books.
The brightly coloured pages show happy families enjoying life together whilst the words explore the different ways in which people can show their love.
We see two children waking up their dads in the morning by shaking maracas and banging a drum. We see a family with grandparent carers baking and sharing cakes. We see single mums finding lost objects and single dads jumping in puddles in the park. We see a group of children reading stories by the light of a torch with their two mums. I particularly like the inclusion of a dad wearing a baby carrier as i'm not sure i've seen this in any of our other picture books!
As well as being inclusive of different family types, the illustrations are racially diverse. There are some families where all members have the same skin colour and others where they are all different.
I adore everything about this book. It's packed with positive messages and oozes love and acceptance. It's a perfect way for children in underrepresented families to see themselves reflected on the page but it's also great for teaching all kids that no two families are the same.
Buy from Amazon UK: https://amzn.to/3qhviDe
Note this is an affiliate links and Ivy's Library will receive a small commission if you choose to purchase through it.
Disclosure: The publisher provided us with a copy of this book in exchange for an honest review.