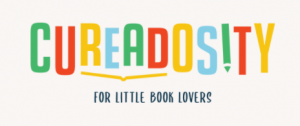 Ivy and I love discovering new book subscriptions so we were very excited when this one landed on our doorstep on Christmas Eve.
Cureadosity is a brand new subscription service for 2-6 year olds and I have to say I am impressed. Our sample box contained lots of bookish fun – and Ivy dived straight in!
If you are as obsessed with picture books as we are then subscription boxes can sometimes be an issue. We buy a lot of books so i'm naturally wary of receiving duplicates. Cureadosity seem to be right on top of this though. They only include books which have been released within the last three months, thus drastically reducing the chance you might already have them in your collection – and sometimes they even include books before their official publication date so you get a sneaky advance look!
So what was in the box?
1 x hardback copy of 'The Couch Potato' by John Jory & Pete Oswald
1 x hardback copy of 'Afraid of the Dark' by Sarah Shaffi, Isabel Otter & Lucy Farfort
1 x paperback copy of 'I Really, Really Need A Wee' by Karl Newson & Duncan Beedie
1 x exclusive print from a lovely book released last year (Gustavo the Shy Ghost)
2 x activity sheets
(Note of course that this was a sample box so you wouldn't receive these exact items. The books and products change every month).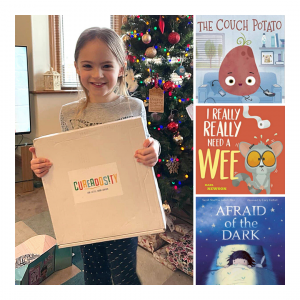 The books included are all great quality and we had lots of fun with the activities. It's a really simple way to build out your child's bookshelves with great titles. The box costs less than the retail price of the 3 books combined plus you get the added extras AND the excitement of the box arrival thrown in too!
Boxes are £20.00 each and there are multiple subscribtion options ranging from monthly to quarterly. If you decide to subscribe you can receive 10% off your first box using code UNBOX10. Let us know what you think!
Find out more and subscribe here: www.cureadosity.com
Disclosure: Cureadosity supplied us with a sample box in exchange for an honest review