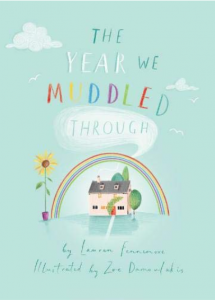 Right now everything feels very unsettled. We are locked down in our homes, juggling the education of our children with our day jobs, dealing with sorrow and and being faced with a constant barrage of negative news. We're all just muddling through and taking it one day at a time.
But what will we remember about this strange time in years to come? And perhaps more importantly, what do we want our children to remember?
A love letter from parent to child, this gorgeous picture book adds a sprinkle of magic to what has been a very difficult year. It alludes to the bad but focuses on the good, and in doing so the story of 2020 takes on a wonderful fairytale quality.
We see giant sunflowers and animals running wild on empty streets. We see rainbows shooting from rooftops as families take their daily walks. We see smiling faces as communities come together to celebrate everyday heroes.
It's a filtered version of our day to day reality but it really struck a chord with me because this is the version that I strive to show Ivy every day. It's the version that I want her to remember in the future. Family and fun. Rainbows and sunshine. Cuddles and community spirit.
We're in the eye of the storm but this book gives me hope for the future. It's a little beacon on our bookshelf and a wonderful keepsake of a most unusual year.
Buy from Bookshop.org an support independent bookshops: https://uk.bookshop.org/a/155/9781913339197
Buy from Amazon UK: https://amzn.to/3c5ykGE
Note these are affiliate links and Ivy's Library will receive a small commission if you choose to purchase through them.
Disclosure: The publisher provided us with a copy of this book in exchange for an honest review.