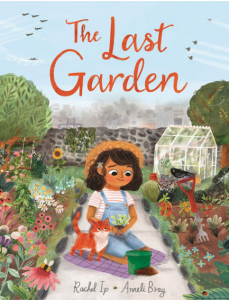 In the middle of a war-torn city a garden grows. It's surrounded by devastation, but within these four walls there are trees and herbs, vegetables and flowers, and most importantly there is hope.
Every day Zara tends to her plants, helped by the local children, and when the work is done they climb trees and build dens. Outside the war looms, but the garden gives them the freedom to play and to shake off their worries for a short while. They pick flowers to brighten up their homes and bring baskets of fruit to their friends in hospital.
As the conflict increases their focus turns to mending the things in the garden which have been broken, but eventually the danger is too great and they are forced to leave the city behind.
When the war is finally over the families return to what is left of their homes. As Zara unocks the gate to her precious garden her anticipation rises. What will she find within those four walls?
This is such a beautiful book and i'm not ashamed to say that I had to hold back the tears when I read it for the first time! Inspired by real events in Syria, the poignant story is sensitively written and the illustrations add so much depth. The gray, rubbled cityscapes are juxtaposed with the lush greens and bright flowers in the garden and the children's faces are little beacons of hope in a world full of turmoil.
And the ending? I won't spoil it for you, but let's just say that despite humankind's misguided attempts to control and destroy it, nature always finds a way…
The publisher recommendation for this one is 3-5 but personally I would say that 3 is a bit on the young side. War is a complicated theme for little ones to grasp when they are fortunate enough not to have experienced it. Ivy is 5 and I think this is about the right age to fully appreciate the story.
The hardback is available now and the paperback edition will be released on April 15th 2021
Buy from Bookshop.org and support independent bookshops: https://uk.bookshop.org/a/155/9781444946352
Buy from Amazon UK: https://amzn.to/3b7Vk7a
Note these are affiliate links and Ivy's Library will receive a small commission if you choose to purchase through them.
Disclosure: The publisher provided us with a copy of this book in exchange for an honest review.