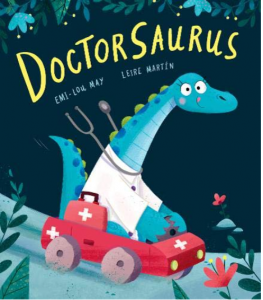 When Triceratops damages her horn at a dinosaur picnic her friends know exactly who to call – Doctorsaurus!
Armed with her doctor's bag and some extra-sticky plaster, the lovely doctor fixes the problem in a jiffy, but soon she has lots of new patients to see. Stegosaurus has a splinter, T-Rex has a blocked nose and Brontosaurus has a big, bloaty tummy. Doctorsaurus doesn't bat an eyelid as she deals with green goo, snotty slime and some rather icky smells and before they know it all the dinosaurs feel well enough to celebrate.
But as they tuck into their picnic, Doctorsaurus hears an almighty rumbling and yells 'Emergency!'. It looks like those prunes she prescribed Brontosaurus might be about to take effect…
Written in rollicking rhyme, this is a fantastically fun story for dinosaur fans and lovers of all things icky. It's great for reading aloud and the illustrations are super cute.
We received a record number of book parcels in February (March is a big month for new releases!) and this one arrived on the same day as 14 other titles from a variety of publishers. I laid them all out for Ivy to look at and she pounced on Doctorsaurus straight away. I had to read it three times before she would even look at any of the others which I think is a pretty good sign that it's a standout book!
Buy from Bookshop.org and support independent bookshops: https://uk.bookshop.org/a/155/9781788818612
Buy from Amazon UK: https://amzn.to/2OnNYmQ
Note these are affiliate links and Ivy's Library will receive a small commission if you choose to purchase through them.
Disclosure: The publisher provided us with a copy of this book in exchange for an honest review.