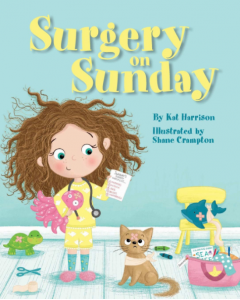 Sunday has a tiny tear in her eardrum which requires an operation under general anaesthetic. She's never been in to hospital before so she doesn't know what to expect and is naturally very nervous. Perfect for little ones who may be about to go through a similar experience, the story outlines the day of her surgery and also her recovery.
From the strange gown and super-tight socks through to the IV insertion and the operating room, we see all of the detail through the eyes of a child. Sunday is a plucky little character with a big imagination so, despite her obvious nerves, her bravery shines through and she tries to be as positive as she can. Soon her ear is better and she is playing with her friends once more.
The book closes with Sunday's 'unofficial rules of surgery' which are both practical and funny, including a little warning that you might get a cold bum because the hospital gowns usually don't have a back!