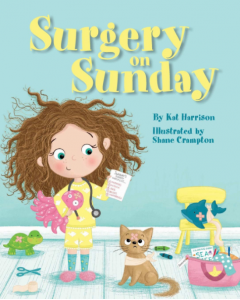 Sunday has a tiny tear in her eardrum which requires an operation under general anaesthetic. She's never been in to hospital before so she doesn't know what to expect and is naturally very nervous. Perfect for little ones who may be about to go through a similar experience, the story outlines the day of her surgery and also her recovery.
From the strange gown and super-tight socks through to the IV insertion and the operating room, we see all of the detail through the eyes of a child. Sunday is a plucky little character with a big imagination so, despite her obvious nerves, her bravery shines through and she tries to be as positive as she can. Soon her ear is better and she is playing with her friends once more.
The book closes with Sunday's 'unofficial rules of surgery' which are both practical and funny, including a little warning that you might get a cold bum because the hospital gowns usually don't have a back!
This is a really useful resource for kids who may be about to have an operation. It shows them that their feelings are valid whilst arming them with the facts about what to expect. There's also a great page of questions at the back of the book which will help them further articulate what they feel and prepare them for the big day.
Although surgery isn't something which Ivy has experienced yet (touch wood), she is fascinated by all things medical and really enjoyed the story. She particularly liked the double page spread of Sunday's imagined 'happy place', which shows her building a sand castle in the desert accompanied by a meerkat, a lizard and toy octopus! This was the catalyst for a great conversation about where her own happy place would be.
The book has been written with love and a lot of first-hand experience as the author lives with chronic illness and has had many surgeries in her lifetime. She has managed to create something really special which I am sure will be a great help to many.
Buy it now: https://amzn.to/3lkqpGT
Disclosure: The author provided us with a copy of this book in exchange for an honest review.