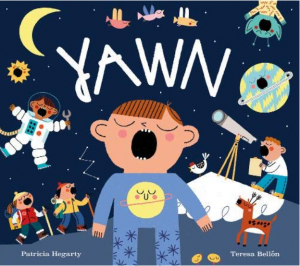 You know how sometimes yawning is contagious? Well, when a little boy does a massive yawn at the start of this story he kicks off a chain reaction beyond his wildest dreams.
Once his yawn is out there in the world, everyone else starts yawning too. The boy passes his yawn on to a dog, who passes it on to a cat, who passies it on to a tiny mouse… Soon the whole town is yawning and it spreads through the countryside too.
Next the yawn goes international, passing through the pyramids of Egypt, the Taj Mahal and even the North Pole. Peope start yawning on buses and trains and on ships and planes. The yawn even spreads on to a rocket and heads in to space!