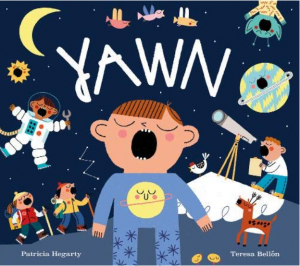 You know how sometimes yawning is contagious? Well, when a little boy does a massive yawn at the start of this story he kicks off a chain reaction beyond his wildest dreams.
Once his yawn is out there in the world, everyone else starts yawning too. The boy passes his yawn on to a dog, who passes it on to a cat, who passies it on to a tiny mouse… Soon the whole town is yawning and it spreads through the countryside too.
Next the yawn goes international, passing through the pyramids of Egypt, the Taj Mahal and even the North Pole. Peope start yawning on buses and trains and on ships and planes. The yawn even spreads on to a rocket and heads in to space!
Yaaaawn! How about you are you starting to feeling sleepy? Is that a little yawn I see?
This rhyming book is so much fun and of course it kicked off big bouts of yawning and giggles in our house. Ivy loved the idea that she might be able to make other people yawn so she has been testing out her skills on us. It's a great book for bedtime as it genuinely makes her start to feel a bit sleepy!
The illustrations are wonderfully detailed and feature a diverse cast of characters. There are also great cut out sections to lift and peek through for added interest.
Buy from Bookshop.org and support independent bookshops: https://uk.bookshop.org/a/155/9781838910358
Buy from Amazon UK: https://amzn.to/2GIrpW8
Note these are affiliate links and Ivy's Library will receive a small commission if you choose to purchase through them.
Disclosure: The publisher provided us with a copy of this book in exchange for an honest review.