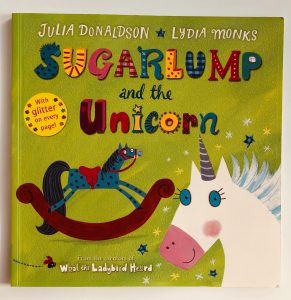 We love Sugarlump and the Unicorn by Julia Donaldson and Lydia Monks.
Sugarlump is a rocking horse who becomes discontented with his life when the children who own him grow up and go to school. Enter a magical unicorn who grants his wishes and lets him be who he wants to be. But after stints on a farm, at a race course and in a circus he's still not happy and he misses the children.
Will he ever fulfil his potential and become the horse he was meant to be?
The illustrations in this one are fab and there are raised glittery sections on every page for your little one to find and touch.
Buy it now: http://amzn.to/2j5Ao86