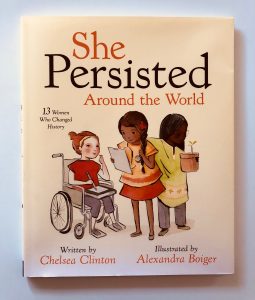 Our pick for International Women's Day 2018 is the fantastic new book by Chelsea Clinton – 'She Persisted Around The World'.
Featuring the stories of 13 inspiring women, the aim is to show little girls that whoever you are and wherever you live you can achieve their dreams and help change their world. All you need is the courage to believe in yourself and to take that very first step.
The book will introduce your little one to familiar faces like J.K. Rowling, Malala Yousafzai, Marie Curie and Viola Desmond, along with some less familiar but equally amazing characters such as Kate Sheppard, Wangari Maathai, Leymah Gbowee and Yuan Yuan Tan.
This is an important book and I'm really excited to have this in Ivy's Library. Although she's still a little young to understand the impact these women have had on the world she is drawn to the beautiful illustrations and is listening to the inspiring stories as she strokes the pictures. I hope they stay with her and encourage her to take big steps out in to the world.
Highly recommended!
Buy it now: http://amzn.to/2G3U3ww