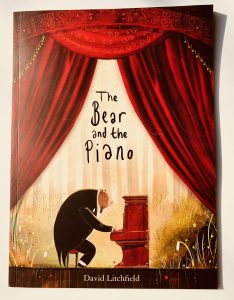 There is something hauntingly beautiful about The Bear and the Piano by David Litchfield – and this is another one where Ivy feels compelled to stroke the pages when I'm reading it to her.
The story is about a little bear cub who finds an old piano in the woods. Fascinated by the sounds it makes, he visits every day until he is an accomplished pianist, but he still doesn't really understand what the piano is.
His playing begins to draw a crowd and eventually Broadway comes calling. He would really, really like to play his piano for audiences around the world but he's scared of leaving his home and family behind.
What will happen if he takes a leap of faith? And will his friends forget all about him once he's gone?
This is a really powerful book about how following your dreams doesn't have to mean losing your roots.
Buy it now: http://amzn.to/2ip1J1O