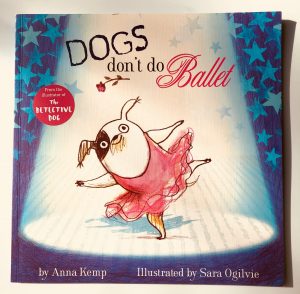 Biff isn't like other dogs. He doesn't like playing fetch and he doesn't do dog stuff like scratch himself or drink from the loo. Instead he dreams of becoming a ballerina!
He follows his owner to her ballet classes and watches intently – but whenever he tries to dance everyone says 'dogs don't do ballet!'.
For her birthday, his owner receives tickets to the royal ballet but Biff isn't allowed to go. He's so desperate to see the show that he sneaks after her.
Disaster strikes when the prima ballerina trips and falls – who could possibly take her place and save the show?
This is a great book which shows you should always follow your dreams and be true to yourself, even when others doubt you.
Buy it now: http://amzn.to/2EFDG8L