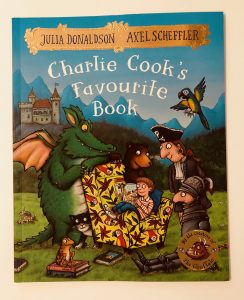 Our choice for World Book Day is Charlie Cook's Favourite Book by Julia Donaldson. Why? Because it's not just a book – it's a book in a book in a book in a book!
This really clever story takes you on a little adventure through a whole host of different stories and styles in just a few short pages.
Charlie Cook is sitting in an armchair reading his favourite book, which is about a pirate. In the story he's reading, the pirate finds a copy of Goldilocks and the Three Bears and reads it. In the Goldilocks book one of the bears talks about his favourite story which is about a knight. And the knight is reading a book about a frog … And so on and so forth until we come right round to a headless ghost who is reading a book about Charlie Cook!
It may sound a little confusing but it's a simple story and the rhyme is really catchy.
We also love the way that each page looks completely different as technically they're each from a different book!
Buy it now: http://amzn.to/2F4oq4Q