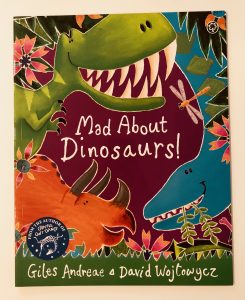 We love a good dinosaur in this house so it's no surprise that this book is a popular choice.
The bouncy rhythms and brightly coloured illustrations are perfect for toddlers who like to yell ROAR!
Every page features a mini rhyme about a different dinosaur. All of the well-known ones are in there so your child's favourite will hopefully be featured.
Personally we like the big purple stegosaurus and the chicken-sized microraptors!
Buy it now: http://amzn.to/2FqudSf