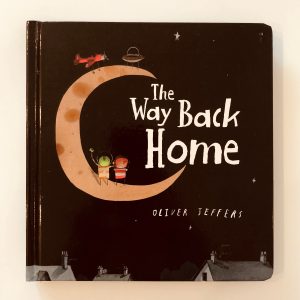 The Way Back Home is one of our favourite books by Oliver Jeffers. It's a beautifully illustrated story but it's also so much more. It covers off lots of important themes – like friendship, courage and helping other people – but still delivers an exciting story filled with space travel, aliens and even landing on the moon!
One day a little boy finds an aeroplane at the back of his cupboard so he decides to try it out. He flies so high that he ends up in space but then suddenly he runs out of petrol. He finds himself alone and scared on the moon. How on earth will he get home?
Unbeknown to him, a little martian is also having engine trouble and soon there are two of them on the moon. The boy and the martian are two very different creatures but they both have the same problem. Can they work together so that they can each get back home?
Highly recommended (and if you're a fan of Lost and Found then there's a little treat as the tiny penguin features in the illustrations too!)
Buy it now: http://amzn.to/2HDXWIq