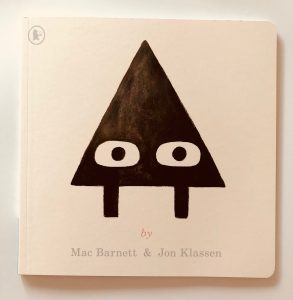 We knew that we had to buy this book when we spotted that Jon Klassen was the illustrator as he is one of our all-time favourites. This collaboration with Mac Barnett has weird and wonderful illustrations and a very funny little story.
Triangle is a mischievous little guy and one day he leaves his little triangular house and heads out to play a trick on his friend Square. When he arrives he hides outside Square's house and hisses like a snake. Square is scared of snakes so he panics but then spots his friend Triangle who cannot stop giggling at the trick he has played.
Square chases Triangle all the way home, but once they're there sneaky Square manages to have the last laugh (or does he?).
We love this quirky little book and it looks great on our shelf too!
Buy it now: https://amzn.to/2I7vtL2