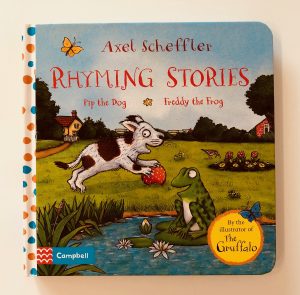 This brightly coloured little board book is perfect for babies and toddlers alike as it features a really strong rhyme and an array of really cute animal characters.
There are two separate short stories in this one, each one about an animal who loves being noisy.
The first is about Pip the Dog, who loves to bark all the time. He's at his happiest when playing chase and woof-woof in the park but also enjoys scaring the local cats and even the postman with his loud bark!
The second story is about Freddy the Frog, who loves to croak all day long and catch flies with his long tongue. He likes to play bounce in the pond with his friends but he's also partial to a little nap on a lily pad.
Axel Scheffler's illustrations are always a winner and i'd definitely recommend this one for babies and younger toddlers. If you enjoy it there's also  a second volume about two different characters – Katie the Kitten and Lizzy the Lamb.
Buy it now: https://amzn.to/2GGSnbV