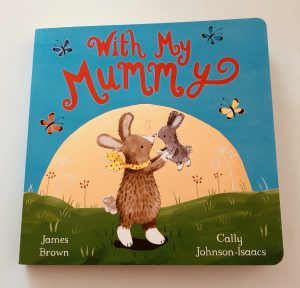 This is a really cute book which captures the essence of the mother-child relationship really well. It takes you through a regular day from the point of view of the child and shows all the ways in which mummy makes their day special – whether it's carrying them home from the shops because their legs are tired, fixing a favourite toy or splashing in the bath.
Each page features a different animal family and the beautiful illustrations really draw you in and help create a lovely warm setting for the story. Our favourites are the foxes in the park and the grumpy little elephant waiting for his dinner.
Lots of the activities are ones which many mums may not look forward to doing with their child in tow, for example doing the supermarket shop, but the child's narrative is a nice way of reminding us of something important. No matter how badly we may sometimes think we're doing at this difficult job called parenting, our children always think we're the best! 
If I had one criticism it would be that the book paints a slightly old-fashioned picture of parenthood, with the mum doing the shopping, the washing and other chores. There is a companion book called 'With My Daddy' which we haven't read yet so I hope that he also gets to do some chores and isn't just depicted fixing the car, playing football and doing the DIY!
Buy it now: https://amzn.to/2qJdiEH