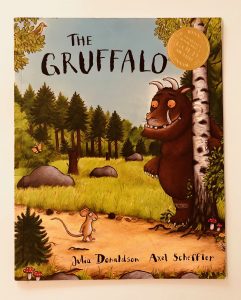 Today's book needs no introduction as it's a modern classic. I'm sure most of you already have this in your child's library but a collection of children's book reviews doesn't seem complete without it!
An enterprising young mouse is taking a little walk through the wood when he encounters a number of creatures who are keen to make him their dinner. Thinking on his feet he explains to each of them that he can't stop because he is off to meet a Gruffalo. What's a Gruffalo? the fox, the owl and the snake each ask in turn.
As he describes this imaginary, terrifying creature the details become more and absurd. He has terrible teeth, a poisonous wart on his nose, orange eyes and purple prickles all over his back! Scared of the mouses terrifying friend, the animals decide to let him go on his merry way.
The mouse believes he has successfully got himself out of danger but then he bumps in to something completely expected – an actual Gruffalo! Can his quick-thinking get him out of another sticky situation or will he become Gruffalo dinner?
The combination of Julia Donaldson's tight rhymes with Axel Scheffler's comfortingly familiar illustrations is always a winner and this is one of their best and most well-known collaborations.
Buy it now: https://amzn.to/2r2QL6n