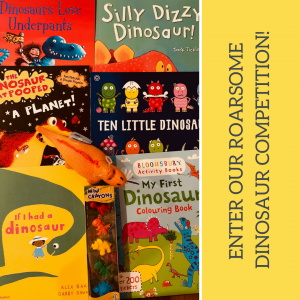 What is it with little ones and dinosaurs? Ivy is in the grips of dino fever so we thought we would run a little dinosaur-themed competition for you.
Our prize bundle contains 5 picture books, a cuddly dinosaur, a colouring book and some crayons and it's worth over £40!
We have 2 prize bundles – one for Facebook followers and one for Instagram followers.
Click here to enter on Facebook
Click here to enter on Instagram
Contest is open internationally and will run for 2 weeks. The winner will be selected at random at 8.30pm GMT on Wednesday, June 6th 2018
The prize includes:
* Silly Dizzy Dinosaur by Jack Tickle
* Ten Little Dinosaurs by Mike Brownlow & Simon Rickerty
* Dinosaurs Love Underpants by Clare Freedman & Ben Cort
* The Dinosaur That Pooped A Planet! by Tom Fletcher, Dougie Poynter & Garry Parsons
* If I Had A Dinosaur by Alex Barrow & Gabby Dawnay
* My First Dinosaur Colouring Book from Bloomsbury
* Set of Dinosaur Mini Crayons
* A Cuddly Dinosaur from Best Years
GOOD LUCK!