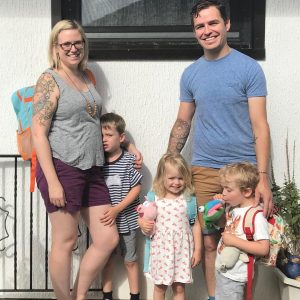 Hi Ellie! Tell us a little bit about yourself and your family
I'm Ellie and I live in South Manchester with my husband and three children: Lucas (6), Aurora (3) and Jake (3). I am a writer and family travel blogger. My dad is a librarian and my mum was an English teacher, so a love of reading is in my genes! I have been a bookworm for as long as I can remember. My dad says I taught myself to read before I even got to school – I just couldn't wait!
As a child I made my large book collection into a library for my friends, complete with membership cards, a date stamp, and record book. Naturally, one of the things I was most excited about when I had children was sharing books and reading with them.
What are your children's favourite books?
Lucas, our eldest, is six and is a super reader. He is really interested in non-fiction at the moment. He loves maths, robots, coding, and Lego. His current favourites are both Usborne Children's Books: See Inside Maths, which we bought at a charity shop, and Lift the Flap Computers & Coding. My husband is a software engineer and he chose that one!
Aurora and Jake are three, and they're starting to recognise letters and sounds. The children choose their bedtime stories each night, and most nights they select Dino Block. It's falling apart as it belonged to Lucas first, but that doesn't affect their enjoyment! They know all the dinosaur names and love looking at the fantastic illustrations.
Which book do you most like reading to them and why?
I'm lucky that my dad kept a couple of my most-loved baby and toddler books. I love reading Dick Bruna stories to them because I find the simple illustrative style so appealing. I used to spend hours copying the pictures as a child! I really like reading The Orchestra, and talking about different instruments.
Dogger is another childhood favourite, and I remember being really affected by this story. I love introducing the kids to books I loved when I was younger. I can't wait to read some of my favourite classics to them: The Secret Garden, Peter Pan, and Little Women in particular.
What was your favourite book when you were a child?
I had different favourites at different stages of childhood. I remember being riveted by the Chronicles of Narnia series, and begging for "just one more chapter" at bedtime. I went through a huge Jacqueline Wilson stage, especially The Suitcase Kid, and even got to meet her at Waterstones in Newcastle. From around 9, I would spend all my pocket money on The Babysitters Club and Sweet Valley Twins books – cringeworthy now but at the time I was enthralled!
Who is your favourite children's author and why?
This is a really difficult question to answer. There are so many authors I love, respect, and admire – both old and new. My favourite contemporary children's author and illustrator is Oliver Jeffers. His books are beautiful, and the messages simple but touching. My children love Lost and Found (and its sequels), which is about a boy who befriends a penguin. As well as writing children's books, Jeffers is outspoken about politics, equality, and improving our world, which I find inspiring.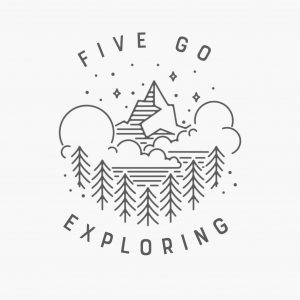 About Ellie
Ellie is a writer and family travel blogger. Her essays have been published in Offbeat Mama and Motherly.
Follow her family's adventures at www.fivegoexploring.co.uk
Facebook: https://www.facebook.com/fivegoexploring/
Instagram: http://www.instagram.com/fivegoexploring