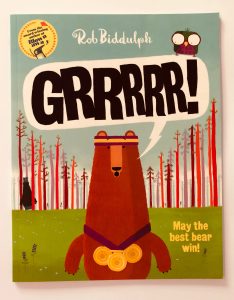 As much as we love Penguin Blue, we have to admit that Grrrrr! is our favourite book from Rob Biddulph.
The heartwarming story is about Fred, a highly competitive grizzly bear, who has won the 'Best Bear in the Woods' contest for the last 3 years in a row. He has lots of medal and trophies, but unfortunately he doesn't have many friends because of all the time he spends training.
Fred excels at every discipline however his extremely loud Grrrrr! is what he is best known for. This means it comes as quite a shock when he wakes up on the morning of the competition to discover that he's lost his roar! It seems to have disappeared right around the time that Boris, a new bear, arrived in town. Coincidence?
All of the local animals pitch in and help search for the missing growl but to no avail. Downhearted, poor Fred has to start the contest without it. Can his new friends help him win the competition without his Grrrrr! and will the culprit be unmasked?
This is a fantastic book about friendship, with a lovely lilting rhythm. It's one of my favourite books to read aloud to Ivy and she is absolutely mesmerised by the animals in the beautiful illustrations.
Buy it now: https://amzn.to/2RlnVtD