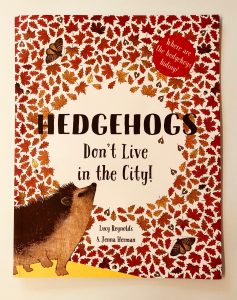 We loved 'Parrots Don't Live In The City' by Lucy Reynolds & Jenna Herman so we were very excited to discover that they have a new book out – this time with a hedgehog in the starring role!
The story follows Grace and Archie, two children who are scooting through the city at dusk. Grace spots something in the leaves which she thinks looks like a hedgehog but Archie disagrees. He tells her that hedgehogs don't live in the city so it must have been something else. Grace doubts herself but as they continue their journey she thinks she spots another. Could it really be a hedgehog on the busy city streets?
The lovely rhyme makes this a pleasure to read and the words bring the bustling city to life. You can feel the hum of the traffic and the leaves being swirled in the autumn wind. The words are elevated by the crisp and leafy illustrations which encourage you to seek out the hidden wildlife.
Ivy has reached an age where she adores searching for small details in pictures. She has been playing 'spot the hedgehog' with this book since the very first time we read it and she likes to keep an eye out for the array of mini beasts, like beetles, woodlice, moths and slugs, which are dotted through the pages.
She's also learned a lot about hedgehogs from the little fact section at the back (and to be honest so have I!)
Buy it now: https://amzn.to/2zikBIl