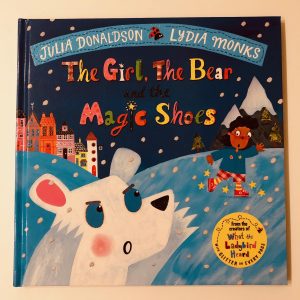 This magical story is about a little girl called Josephine who loves to run. When her running shoes begin to get a little tight she buys a new pair from an old lady who has a shoe shop filled with cats. The lady tells her that the shoes are magic bit she won't reveal their special powers!
When Josephine leaves the shop she discovers she is being chased by a big white polar bear. She runs and runs and runs until she reaches a tall, snow-capped mountain. Feeling defeated, Josephine worries that she won't be able to climb it to escape the bear – but then her shoes start to talk. They utter a little motivational rhyme before magically turning in to snow boots!
Josephine successfully climbs the mountain but the bear is still hot on her heels. Fortunately the magic shoes know just what to do. When they encounter snow, they turn in to skis. For a muddy bog they transform in to yellow wellies. And when Josephine stumbles upon the shores of a lake they become flippers and power her across to an island.
However all this time the bear keeps on coming. Why is he chasing her? Or is it possible he's not actually chasing her at all…?
We love this quirky little adventure which shows you that sometimes the things you think you are scared of really aren't that frightening at all.
Lydia Monks' illustrations are fantastic as always and we LOVE the cute little nods to her other collaborations with Julia Donaldson. Ivy immediately spotted a pair of Gruffalo boots (there are some ladybird ones too!) and was fascinated by the little books with familiar covers in the window of the bookshop at the beginning of the story.
It's worth noting here that this isn't a rhyming story (apart from when the shoes speak). This seems to have bothered some readers/reviewers but I don't think this is a problem. The prose is tight and concise and I think it works really well
Buy it now: https://amzn.to/2KPML1Y