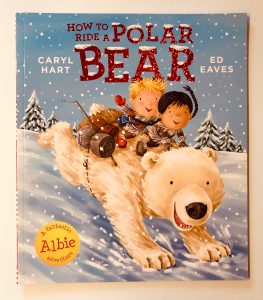 When little Albie goes to the museum with his mum he is expecting the visit to be dull, dull, dull. However the arctic exhibition holds a lot more than just boring old exhibits!
Albie tries on a wintry outfit and is just about to start building an igloo out of blocks when BAM a snowflake falls on his nose, followed by a whole flurry of real snow. As Albie turns in confusion he sees a polar bear running towards him and realises he has magically entered an arctic world!
He befriends a little girl called Yura who is desperately trying to make her way home in the snow. Together they head off on an icy adventure featuring polar bears, an avalanche and some howling wolves. But will Albie be able to help Yura find her way home or will they be lost forever?