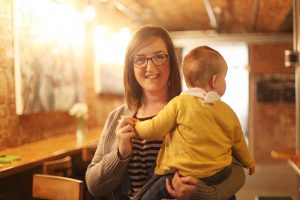 Tell us a little bit about yourself and your family
Hi! I'm Lucy. I'm mother to two girls aged 1 and 3, and along with my partner we recently moved from central Manchester to a lovely rural market town in Cheshire to be nearer family as the kids grow up. After having my first baby in 2015 I launched my coaching business Brand New Mum. I now work supporting women who are either starting or growing creative, independent businesses after having children.
What are your daughters' favourite books?
My youngest is still firmly at the teething baby stage, so any board book that can be given a good chew is a favourite for her. My eldest daughter's a little more choosy.  She currently loves 'Dog's Day' by Jane Cabrera. It's all about the fun things a little doggy gets up to all day long, and she loves to point out the animals he meets and spot the little mice hidden in the pictures. At the end (spoiler alert!) the dog reveals his absolute favourite thing to do – play with Daddy! This book is currently being read every evening as Daddy does bath time with her while I get the baby down, so is a firm favourite.
Which book do you most like reading to them and why?
I love reading Laura's Star by Klaus Baumgart with the children. It's a beautiful, serious tale of a little girl who finds a broken star, helps it to heal and then sends it off; back into the night sky. It's one of those kids stories with a somewhat melancholy, darker edge, and I like how it can be interpreted in so many ways. As the girls get older they see and understand different elements of the story, from the simple beauty of the shiny stars on each page to all the emotions Laura is feeling about their friendship.
What was your favourite book when you were a child?
When I was a child one of my absolute favourites was a book by Janet and Allan Ahlberg, called The Jolly Pocket Postman. Each page features a folded envelope with a real letter or card inside that can be taken out and read. I was obsessed with getting post as a child, which is I think why it appealed!
Who is your favourite illustrator and why?
I absolutely love Britta Teckentrup's gorgeous illustrations. She has a series of books with Patricia Hegarty featuring cleverly designed cut-outs that explore nature. We have 'Moon' and 'Bee'. Both are just lovely and my daughter is just absorbed by the pictures. She will also sit and read the books to herself as well, which I always think is a sign of a really appealing children's book.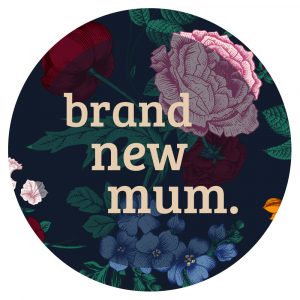 About Brand New Mum
After my first baby, pretty much everything changed for me and I was left no longer wanting to return to my old job for a myriad of reasons. Instead I went self-employed, and set up in business supporting other mums to do the same. I now coach women who are starting or growing creative, independent ventures through 1:1 services, workshops and online courses. I help women to develop confidence, bring their unique talents into a business and figure out how to design a working life which absolutely fits their new family.
You can find me at: