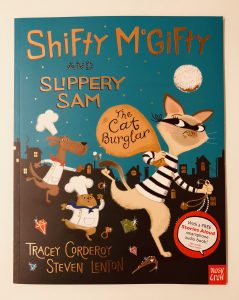 We are huge fans of the Shifty McGifty series here. In the very first book, we saw Shifty and his best friend Sam give up their life of crime and open a cafe when they discovered they were much better at baking cakes than robbing houses. In this fantastic sequel we see them use their skills for good as they help track down an infamous cat burglar.
The story begins at the newly-opened cafe, where all of the local dogs gather for a good gossip, a coffee and some cake. They begin to discuss the fact that a notorious robber called Kitty Le Claw has been spotted in town and and has been causing lots of trouble.
Together the dogs decide to hatch a secret plan to catch the criminal, but before they can get started a poor, rain-sodden cat called Dotty comes in and ask for their help. Eager to be good dogs, they offer her a job at their cafe – but perhaps Dotty is not all that she seems…
When Shifty and Sam discover some footprints in their basement and a tunnel leading to the bank vault next door they realise that perhaps they have been a little too trusting. Can they catch the sneaky cat burglar before she gets away?
This is a great little adventure story for toddlers. The rhythm is really strong and it hurtles you along as the tension builds. Ivy literally bounces with excitement towards the end of the story and cheers on the heroes as they chase down Kitty Le Claw.
We love the fact that ace illustrator Steven Lenton draws a tiny little spider on every page. Some are obvious and some are cleverly hidden so finding them is a fun game and Ivy is really proud of herself when she spots them all on her own!
Buy it now: https://amzn.to/2Nor7TP