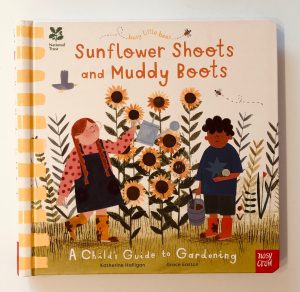 Spring is just around the corner and this lovely book from Nosy Crow and the National Trust is packed full of interesting little activities you can do with the kids to encourage a love of the great outdoors.
From building dens and spotting bugs to growing radishes and making compost, the simple instructions help you make the most of the garden. And if you don't have any outside space, there are just as many projects to do indoors, like growing beans in a glass jar, making a tiny magic garden and creating a little window box.
Alongside the myriad activities there are garden-related words to learn, flowers, trees and vegetables to identify, and a handy section on how to stay safe whilst digging and planting.
I am not in the slightest bit green-fingered, but we've had lots of fun with this book since it arrived. We've planted some sunflower seeds (which are doing really well on the kitchen windowsill!) , we've learned a lot about bugs and we're planning to grow some tomatoes in Ivy's old wellies once the sun comes out!
Highly recommended – and the illustrations are gorgeous too.
Buy it now: https://amzn.to/2Hpskt7
Disclosure: The publisher provided us with a copy of this book in exchange for an honest review.