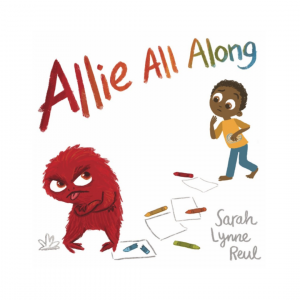 When little Allie breaks her crayon she flies into a rage. Depicted as an angry red monster, her frustration is very much apparent as she tears up paper, throws her other crayons on the floor, stomps on the box and rolls around on the floor screaming.
Her older brother steps forward and thoughtfully offers up a pillow for her to punch so that she can release her anger without hurting herself or breaking anything further. This helps so much that the monster sheds her red furry skin and we see an amber-coloured monster emerge.
This version of Allie is still very angry and she's still not able to articulate what's wrong so her brother encourages her to hold her favourite toy and squeeze it as hard as she can. Another layer is shed and the fur is now green. Allie is now at that stage where she's still pretty mad but she's not really sure why so she's irritable. This is solved with some breathing exercises which turn the monster blue.
Blue Allie feels quite sad so she sits with her brother and slowly counts back from 10 to 1 until the anger dissipates and we see that little Allie was inside all along.
This is a fantastic book for helping children learn to manage their anger. The visual representation of the layers of emotion and the simple colour coding works really well and the story offers up lots of useful tools to help children learn how to calm themselves down.
Highly recommended for children who are prone to big emotions and I think it would be a great addition to a primary school library.
The publisher's age recommendation is age 4-7 but I can vouch for the fact it works for 3 year olds too!
Buy it now: https://amzn.to/2DDXmL8