Tell us a little bit about yourself and your family
Hello. I'm Becky, and I am the creator of Rumpuspuss. I make beautifully illustrated personalised jigsaws for children where their name features in both the illustration and the pieces, so it is integral to solving the puzzle. I live in Bristol with my husband, 2 children (aged 6 and 3) and 3 cats.
What are your children's favourite books?
The runaway winner with both children is Poo Bum by Stephanie Blake. Both kids find it hilarious, and I must admit that we adults quite enjoy it too. If you haven't discovered Simon the little rabbit then look him up. The Book with No Pictures by BJ Novak is another favourite, and anything by Mo Willems. All three encourage a bit of participation, and make the adult reading it look a bit silly, so the kids love them. My son is also really into Asterix at the moment, though I'm pretty sure he doesn't get the puns.
Which book do you most like reading to them?
We recently discovered The Wonky Donkey by Craig Smith, and I cannot get through it with crying with laughter, it tickles me more than it does the children. I'm enjoying reading some of my favourite childhood books with my son, though we had to stop the Witches recently as it was too scary. I really rate Neil Gaiman's children's books, Fortunately the Milk went down a storm. My daughter is still at picture book stage, and we love reading the Hairy Maclary book. I'm also keen on anything where the princess saves herself. The Worst Princess is a favourite. Also the Little People Big Dreams series is excellent.
What was your favourite book when you were a child?
My favourite book was A Squirrel's Tale by Richard Fowler. It's the story of a squirrel waking up and going looking for where it has buried it's nuts. There's a little felt squirrel with a paper tail in a pocket on the front cover, and each page has a slot in so that the squirrel can pass from page to page. I played with that squirrel for hours, even once I was too old for the story.  I still have it, and the kids are allowed it under supervision only, as it has seen better days! Definitely "well-loved".
Who is your favourite children's author?
I absolutely love Jon Klassen, Oliver Jeffers and Neil Gaiman. I would buy any of their books without thinking twice. They are always interesting unusual stories and beautifully illustrated.
Do you have a favourite children's bookshop?
Mr B's Emporium in Bath is amazing, for adults and children. The children used to have a lovely little room, full of so many beautiful books that it was hard to choose. They have just expanded and the children's room now looks massive, with fab murals all over the walls and comfy seats and even more books… I can't wait to get chance to go and see it for myself.
About Rumpuspuss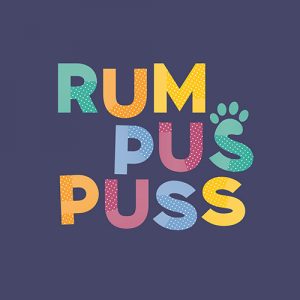 Rumpuspuss came about after I discovered that my eldest child, then aged 3y, delighted in finding anything with his name on. He also loved jigsaws. After spending many hours cutting his name out of paper from the recycling pile and making our own jigsaws, I decided to see if I could make them into a business.
I make beautifully illustrated and beautifully made personalised puzzles for young children. Our jigsaws transport the child to a magical land where their own name – features in clever whimsy pieces – is integral to solving the puzzle.
Find me at www.rumpuspuss.co.uk
Instagram: @rumpuspuss
Facebook: @rumpuspuss
Email: [email protected]