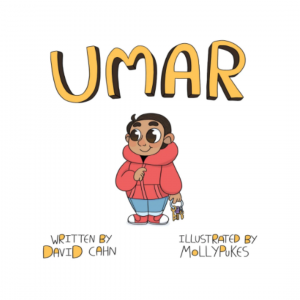 Umar is a little boy with a big obsession. He absolutely loves keys! He likes to look at all the keys his family own and observe how they work. He watches his dad as he locks the door when they go for a walk. He watches his grandmother when she unlocks her front door for him to visit. He notes that his teacher has a different kind of key which he swipes to open the doors at nursery. How do they all work?
Umar is fascinated, and he dreams that one day he will be able to use keys all by himself. His grown ups let him practise all the time but he can't quite master the skill. Will his hard work and determination pay off?
At first glance this might seem like an odd topic for a story but it's a really endearing and engaging look at how children learn through play. All toddlers go through phases where they are absolutely fixated on something – and as parents it can sometimes drive us a little crazy! Umar shows us these thought processes in a way that makes total sense.
The book – which has fantastic illustrations – sparked a real interest in keys for Ivy and for a few days she took to carrying a toy set around with her like a tiny little prison guard!
The author, David Cahn, is a nursery teacher from Leeds and the back portion of the book contains lots of interesting information about how children learn and how we can support them.
Buy it now: https://davidncahnbooks.bigcartel.com/product/umar-children-s-book